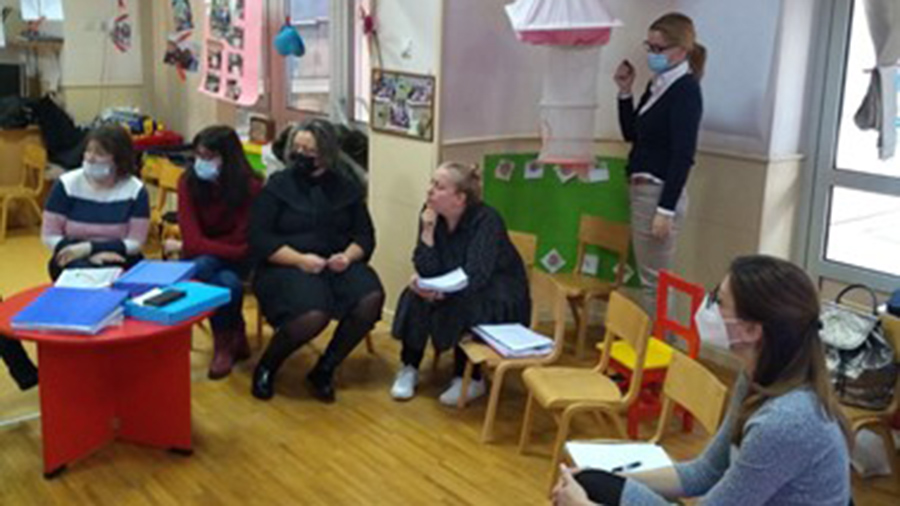 20. December. 2021
SUCCESSFULLY REALIZED FIRST ONE-DAY PROFESSIONAL MEETING OF PRACTITIONERS FROM PRESCHOOL INSTITUTIONS IN THE FRAMEWORK OF IMPLEMENTATION OF THE MODEL OF COMMUNITY OF PROFESSIONAL LEARNING
Within the Program for Support to Capacity Building for the Implementation of the Fundamental Program (OP) of Preschool Education (PVO) – Year of Rising implemented by the Ministry of Education, Science and Technological Development (MPNTR) in cooperation with UNICEF on Saturday, 27. November 2021, the first One-Day Professional Meeting (JPS) of practitioners from preschool institutions (PU) was successfully realized. It is one of the segments of the Support Program within the implementation of the Community of Professional Learning (ZPU) model.
The host was the kindergarten "Mica i Acim", PU "Vracar", which is the core of change, and in addition to practitioners – educators and professional associates of this PU, was attended by practitioners from 5 more cores of change from preschools that apply OP since September 2019. years: "Nasa radost" from Smederevo, "Pcelica" from Sremska Mitrovica, "Radost" from Cacak, "Lane" from Aleksinac and "Duga" from Arandjelovac, a total of 35 practitioners.
After the introductory activities that were realized in the plenary (presentation; joint definition of work rules; confidence-building activities), the participants were divided into three groups, depending on the topic they had previously dealt with. During the implementation of the model of the Community of Professional Learning, practitioners chose and reflected on the practice at meetings within the kindergarten on one of the offered topics: Game, Space, Planning, and Documentation, while the topic of Inclusive Approach was mandatory for all PUs.
Group 1 – topics: Space and Inclusive Approach (PU "Duga", Arandjelova and PU "Pcelica", Sremska Mitrovica);
Group 2 – topics: Documentation and inclusive approach "PU" Radost ", Cacak, and" Lane ", Aleksinac and
Group 3 – topics: Game and Inclusive Approach (PU "Vračar" and PU "Nasa radost", Smederevo).
The exchange of experiences, insights, reflections took place in a stimulating and cooperative atmosphere. Feedback was provided mainly through the "sandwich" technique, which most practitioners became acquainted with through the implementation of the ZPU model. All participants showed a high degree of motivation and professionalism during the one-day meeting.
The one-day professional meeting, in addition to the UNICEF coordinator (author of the Model), was attended by three associates selected to further support the development of reflective practice in kindergartens – the core of change within the ZPU model, UNICEF representatives and the Project Management Unit.
After the One-Day Professional Meeting, on December 6, a meeting was held with the representatives of the Participating Institutions (coordinators for horizontal exchange in the kindergarten). This meeting was an opportunity for the participants to exchange insights on the implemented activities, give suggestions regarding the improvement of the process and agree on ways to inform the team and the next steps, through joint reflection and making a change plan.