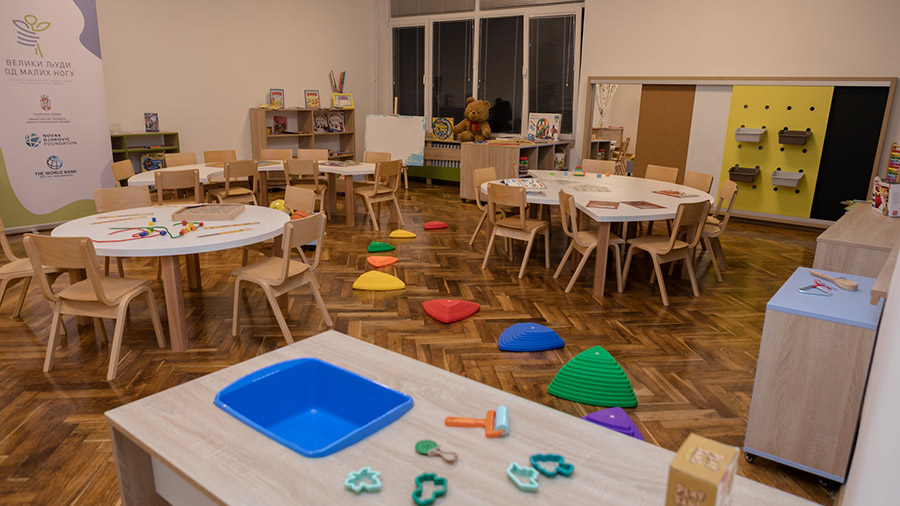 2. December. 2021
MUNICIPALITY OF NOVA VAROS – 3 WORKING ROOMS IN PU "PASA AND NATASA" HAVE BEEN ADAPTED
As a part of The project of inclusive preschool education, which is realized by the ministry of education, science, and technological development in cooperation with foundation Novak Djokovic from the loan of World Bank, it has been adapted and equipped 3 working rooms on the territory of municipality Nova Varos
Preschool institution "Pasa and Natasa" in Nova Varos is the only institution of this type in the municipality in which there are 270 children. Because of the limited number of spots, they always have problems with waiting lists. At this moment, there are 30 children, but there is also a lot of parents who don't even apply because they are aware of the capacity of the institution.
In the municipality of Nova Varos, 90 children to 6 years old don't go in the preschool education, and their families are recipients of social and material assistance while 15 users of social help are included in the kindergarten.
For that reason, through the project "Inclusive preschool education" we adapted and fully equipped 3 study rooms in the central building that were not used due to the poor condition in which they were. In that way, 68 new children were enrolled. Also, children from socially endangered families are largely involved.
Also, the municipality supports all sensitive categories and it has 39 children who go to kindergarten for free, as well as every third child in the family.
Two new groups for preschoolers and one group for nurseries have been opened in the central building.
All rooms are equipped in accordance with the needs of children, educators and in accordance with the new basics of education.
Apart from the furniture which has been selected and adapted to every age group, the facility is equipped with new toys, carpets, lease begs, painting easels, books, and other materials.
Also, in all rooms, works were done to adapt the space in the form of smoothing, painting, planing parquet, as well as setting up wardrobes for all children in the hallways.
In all three new groups on the territory of the municipality of Nova Varos, about 68 new children of nursery age and preschoolers are enrolled and the premises are equipped in accordance with the needs of our youngest residents.